From Similia to Synergy
Date: Fri, Oct 16, 2015 - Sun, Oct 18, 2015
Time: 09:00 - 17:00
Venue: RIN Grand Hotel Vitan
Location: București, Str. Vitan-Bârzești Nr.7D, Sector 4
Dr. Rajan Sankaran is a world-reknowned homoeopath who has practiced and taught homoeopathy internationally for more than three decades. He began with a firm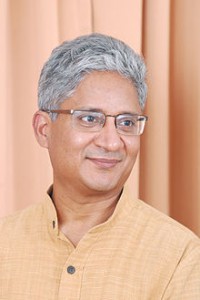 footing in traditional homoeopathy and introduced ground-breaking concepts such as delusion, kingdom, sensation, and levels. This has been an evolutionary process, described through his various publications spanning The Spirit of Homoeopathy to From Similia to Synergy. During this progression, Dr. Sankaran discovered that the secret to success lies in an integration of the original concepts of homoeopathy – Materia Medica, repertory, and case-taking – with contemporary approaches. To excel in this, one needs a strong foundation in conventional homoeopathy, as well as a clear understanding of contemporary approaches.
Schedule of the Seminar

– Day 1: Symptom – How to elicit the exact symptoms of the patient and how to correlate them with the knowledge of Materia Medica, how to convert the patient's language into rubrics;  different techniques of repertorisation (artistic repertorisation, fingerprint technique).
– Day 2: Sensation – Techniques and philosophy of case-taking, patterns of sensation and miasm; Source language; Levels of experience; How to use the Vital Quest?
– Day 3: Synergy – Genius, Symptoms and System –  Left and right brain, fact and experience together adding more energy and bringing the maximum success in practise.
*Topics will be presented through video and live-cases. Simultaneous translation will be provided.
Obiectivele seminarului:
Aims of the Seminar:
1. To give clues and hints about the case-taking process;
2. Understanding how to select the most characteristic symptoms from the patient;
3. To consolidate and deepen repertorisation skills
4. To acquire more clarity about the kingdoms, subkingdoms, miasms and levels;
5. To understand the concept of Vital Sensation and how to apply it to practice in order to be more successful and satisfied;
6. How to bring together both sides: facts and experiment, left and right brain in order to obtain a better understanding of each case and more accurate prescription.
You lose if you do not participate:
1. An unique opportunity of meeting and being inspired by a true legend of homeopathy;
2. You will not know how to avoid the trap of a mechanical repertorisation;
3. you will miss the opportunity of hearing the grounder of the Sensation method teaching and providing examples regarding the subtleties of the method;
3. You will not find out how to combine in practice the two methods for a more accurate prescription.
Dr. Rajan Sankaran  M.D. (Hom) F.S. Hom (England) 
Dr. Rajan Sankaran is the head of The Other Song Academy for Advanced homoeopathy from Mumbai.
He is the son of the well known homeopathic teacher Dr. P. Sankaran, he graduated from the Bombay Homoeopathic Medical College (now known as Smt. Chandaben Mohanbhai Patel Homoeopathic Medical College) in 1981. He received his M.D. (Hom) from Aurangabad University.
He was professor at the Repertorisation Department at Smt. Chandaben Mohanbhai Patel Homoeopathic Medical College in Mumbai for 20 years and works at the college hospital.
He is internationally reknowned as a clear and original thinker and is best known for his path-breaking concepts in Homoeopathy. His original ideas and lucid style make him very popular as a teacher amongst homoeopaths worldwide. His seminars and teaching courses have been widely attended in India, Argentina, Australia, Austria, Germany, U.S.A, England, Switzerland, France, Spain, Canada, Holland, Norway, New Zealand, Russia, Israel, South Africa, Belgium, Spain, Italy, Bulgaria, Korea and Japan.
He has authored several books including The Spirit of Homoeopathy, The Substance of Homoeopathy, The Soul of Remedies, Provings, The System of Homoeopathy, An Insight into Plants, The Sensation in Homeopathy, Sensation refined, The structure, Survival – mollusc and reptiles, The Other Song, Sankaran's Schema and the software Vital Quest. Many of the books are considered modern texts in Homeopathy and have been translated into several languages. The last one is From Similia to Synergy and will be released in Romanian language at this event.
Bibliography:
1. Sensation in Homeopathy by Dr. Rajan Sankaran
2. Sensation refined by Dr. Rajan Sankaran
3. Synergy synopsis by Dr. Rajan Sankaran
4. Sankaran's schema by Dr. Rajan Sankaran
5. From Similia to Synergy by Dr. Rajan Sankaran
Date: October 16th, 17th and 18th 2015
Location: Bucharest, RIN GRAND HOTEL VITAN
Schedule: daily from 9.00 to 17.00
Participation fee: 300 EUR / pers
Account in Euro:
IBAN: RO32INGB0000999904495218

Account in RON:
RO30INGB0000999902421685
Plata în RON se efectuează la cursul de schimb valutar al băncii ING (vânzare):
The payment in RON is made according with the selling exchange rate from ING Bank: https://www.ing.ro/ing/curs-valutar.html
ING Bank N.V. Amsterdam – Branch office Bucharest
Bank Address: Bd. Iancu de Hunedoara nr. 48, Sector 1, 011745, Bucharest, Romania;
SWIFT code: INGBROBU
SC Editura Minied SRL
Tax ID: 1968405
Contact details:
Dr. Gențiana Ciubuc
Tel: 0754420819
E-mail: gentiana@theothersong.com